This video was recently sent to us by Chris Hurd, the 2016 Project Lead the Way, Engineering Teacher of the Year.
When asked about his usage of Dobots in High School classrooms in New York, we found his observations to be similar to what we observe when demonstrating the Dobot to all students. He stated that the girls have just as much interest as the boys when using robots! He sent us this video as a testimony … there is no telling where the mind can go!!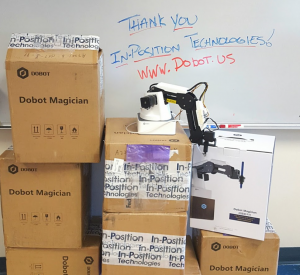 Chris Hurd has taught for over 25 years in Cazenovia, NY. For the last 16 years and presently, Chris Hurd is a Master Teacher for Project Lead the Way on a national level. Jim Hanson began his teaching career at the Walker Career Center in Indianapolis, IN in 2000....
read more